[su_heading size="20″]Meet Adam Dallas-Chapman – Environmental Technician[/su_heading]
[su_slider source="media: 11203,11202,11201″ title="no" mousewheel="no" speed="1500″]
[su_divider top="no" style="dotted" size="1″]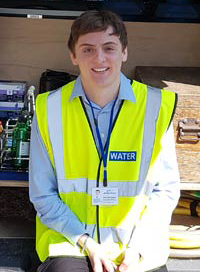 Name: Adam Dallas-Chapman
Job Title at Jersey Water: Environmental Technician
What makes you spring out of bed in the morning? Breakfast
What does your normal day look like? My days are quite varied. Some days I'm taking water samples at Jersey Water's various treatment works, reservoirs and streams. On other days, I spend my time preforming laboratory based chemical and bacteriological tests on all the samples that we collect.
What couldn't you live your life without? Music
What is your favourite part of your job? Being out and about, especially when it's nice and sunny.
And the least favourite…? Entering data into the computer.
How did you get to where you are today? I studied Biology at Bath University. After graduating I spent six months volunteering at Durrell Wildlife Conservation Trust in order to gain the experience needed in this field. I applied to work at Jersey Water after seeing an advert in the JEP and have been here ever since.
Random fact about yourself: I am Jersey Water's current (and greatest) putting champion.