Meet Laura Mooney – Customer Services Administrator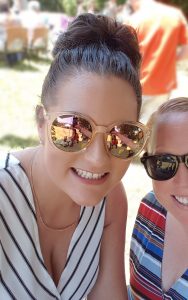 Name: Laura Mooney
Job Title at Jersey Water: Customer Services Administrator
What makes you spring out of bed in the morning? Numerous alarms and snooze buttons.
What does your normal day look like? Working on projects, updating current processes using Lean methodology, supporting the Customer Services Manager and Team Leader in team development. Working with the Network Assistant Manager to ensure all Lawyer Search Enquiries Letters for people buying property are answered. I also help with the everyday tasks of Customer Services.
What couldn't you live your life without? My Family and Friends…Oh and wine!!
What is your favourite part of your job? My colleague Mat Ratcliff (he made me do this!) and all the other people I get to work with every day. I love being able to improve processes to make everyday tasks work more efficiently.
And the least favourite…? Mat Ratcliff (he didn't make me do this one) and the amount of paperwork I have to process on a daily basis!
How did you get to where you are today? My drive for more and the hard work I'm willing to put in.
Random fact about yourself: I'm a Youth Worker and have been for 14 years. I also really hate flies.