Diabetes Screening Tests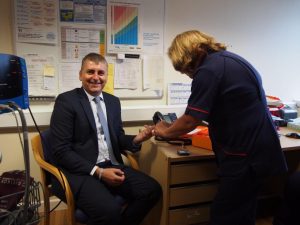 In the wake of recent media reports that more than 2,000 Islanders might be unaware that they have diabetes, a local company has arranged for its staff to have free screening checks.
Jersey Water staff selected Diabetes Jersey as their charity to support for 2016, so the Company has offered all its staff the opportunity of Diabetes screening. Speaking at the Jersey Diabetes Centre following his own test Chief Executive Helier Smith said "wellness of all our staff is important to us and as this is such a simple test it seemed entirely appropriate for the company to offer all of our staff the opportunity to be screened, especially since recent media headlines have revealed that so many people will have the condition without being aware of it."
Diabetes screening tests are a good preventative method for catching the development of diabetes at an early stage, the test which involves little more than a simple finger prick can determine whether or not the person being tested has the condition or is at risk of contracting it. The majority of the 4,000 Islanders with the condition have Type 2 diabetes which is mostly contracted later in life. Although the precise cause is unknown, anyone who is middle-aged, overweight and who does little in the way of exercise has a greater chance of contracting the condition, even more so if diabetes runs in the family. However, if detected early, diabetes can often be controlled with management of diet and assist with the reduction in health problems that affect the eyes, gums, feet, kidneys and heart.
The support of Jersey Water has so far this year resulted in considerable funds being raised for the charity. All fundraising completed by staff is matched by the Company doubling the amount raised, which will be used to both support those in Jersey with diabetes and also draw attention to the importance of being screened.
"Support such as we are receiving from Jersey Water and their staff is vital to help us combat this condition which is contracted by one more person in Jersey every day," says Diabetes Jersey's Chairman Bill O'Brien, "We are very grateful to Helier Smith and his colleagues for such meaningful support and we have enjoyed working together on this year's fund raising."