Do You Need Help Paying Your Bill?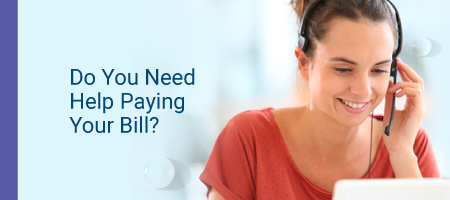 Whether you're struggling to pay a bill or just worried about rising costs, here are some ways we can help.
We can help you spread the cost of your bill by setting up a Direct Debit budget plan. You can set it up and change it quickly and easily online. It is also the cheapest way to pay for your water. Alternatively, we have set up a weekly payment plan for some customers.
Reducing the amount of water you use will help you reduce your bill and will also help reduce your energy bills. You might be using more water than you need. Use our water-saving 'getwaterfit' app and see how much you could save; you can also order free water-saving devices for your home.
There can be times in life when it's a struggle to make ends meet. We know this can be very stressful, and we are here to help you find a solution for your water bill. We have already helped many customers work out manageable payment plans.
Speak to our advisors; we're here to help, whatever your situation. Speak to us anonymously and get the help you need to get on top of your water bills.
The sooner you contact us, the quicker we can help – call us on 01534707300, or if you prefer, you can complete the form below, and we will contact you.
More Free Support and Advice
Don't want to talk to us?
These amazing organisations offer free, confidential advice and support to all islanders.
If you're struggling to pay your bills, speak to the JT Credit Control team directly on 01534 882702.