Pictured: Floating Earth by @photographicleigh
Jersey plays host to iconic touring artwork floating on Queen's Valley Reservoir…
Thursday 14 to Sunday 24 September 2023
Next week ArtHouse Jersey, in partnership with Jersey Water, will present the iconic artwork 'Floating Earth', a ten metre diameter replica of planet earth by UK artist Luke Jerram. The touring artwork will appear at Queen's Valley Reservoir between Thursday 14 and Sunday 24 September 2023, as part of a wider project that considers the concept of home. Totally free to visit, Islanders are invited to come along and witness the installation while enjoying the calm peaceful surroundings of the reservoir.
The giant glowing globe was created from NASA imagery of the Earth's surface, providing the opportunity to see our planet floating in three dimensions. It seeks to generate the feelings of awe that astronauts report feeling when viewing the planet from space (otherwise known as the Overview Effect), a profound understanding of the interconnection of all life, and a renewed sense of responsibility for taking care of the environment. The experience is accompanied by a unique and beautiful sound composition by Dan Jones. It has delighted huge audiences while on its travels, including at London's Canary Wharf as part of the Winter Lights Festival (pictured) and it has also appeared in Liverpool as part of the Eurovision Song Contest.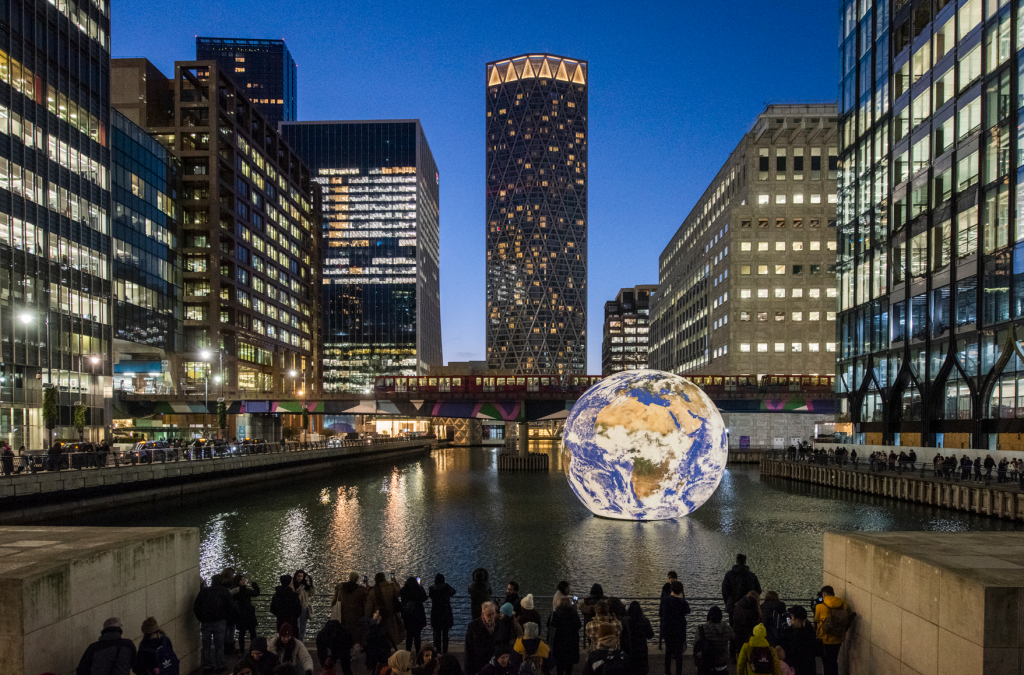 Pictured: Floating Earth at the Canary Wharf Winter Lights Festival by Sean Pollock
Given the environmental messaging around Floating Earth, ArtHouse Jersey and Jersey Water wholeheartedly encourage Islanders to travel to the reservoir sustainably where possible, be it via public transport, bike or on foot. Queen's Valley Reservoir is accessible via Liberty Bus Route 13 (Liberation Station – Jersey Zoo) and is suitable for wheelchairs and pushchairs, though visitors are asked to be aware of slippery surfaces and slight inclines and declines along the route.
Visitors are encouraged to share their Floating Earth photos with us by, uploading them to social media, tagging in @arthousejersey @jerseywater & @lukejerramartist while using the hashtag #FloatingEarthJersey
TIMINGS: The installation soundscape will be turned off at 10pm each evening. Visitors are encouraged to come and enjoy the work any time between sunrise and 10pm.
Director of ArtHouse Jersey, Tom Dingle, said "This is a once in a lifetime opportunity for Islanders to witness a remarkable artwork for free right on their doorstep. Floating Earth has delighted millions of people all across the UK and it's a real coup to have it here in Jersey. Our sincere thanks go to Jersey Water for partnering with us to make this possible. We wanted to bring something to the Island as part of No Place Like Home that helped us consider the fragility of planet earth, the place we all call home. This is a simply awe-inspiring art experience for everyone in Jersey's community to enjoy."
CEO of Jersey Water, Helier Smith, added "Our partnership with ArtHouse Jersey connects nature and people, which very much aligns with our purpose at Jersey Water. Queen's Valley reservoir is the perfect backdrop for this impressive installation; it's accessible to everyone and we hope Islanders will take the opportunity to spend time enjoying the natural surroundings when they visit. The concept of Floating Earth speaks to Jersey Water's values around prioritising the planet, reducing our impact on it, and creating lasting environmental change. We hope the artwork will also make Islanders think about their own connection with the earth."