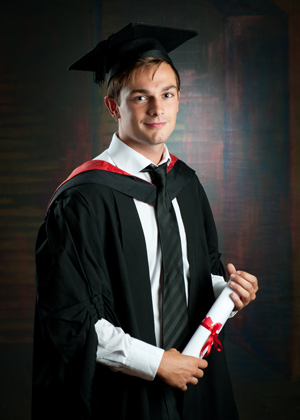 Jersey Water's first Bursary Scheme student, Jordan Todd has completed his degree and recently graduated with an Environmental Biology (BSc Hons) degree from Plymouth University.
The Jersey Water Bursary scheme was launched in 2009 by the then Chairman David Norman and is available to students that are looking to study subjects such as:
• Engineering (civil,mechanical,electrical)
• Water resources, management and conservation
• Environmental sciences
• Chemistry
The scheme not only offers financial support towards studies but also paid work experience across the Company, something that is becoming more important for students, when trying to stand out in what is becoming a very competitive work environment.
Jordan commented on this aspect of the scheme in particular "The work experience I have undertaken has been diverse and very relevant to the subjects I studied on my degree. In particular I appreciated the opportunity to gain valuable laboratory experience and also build my knowledge on what is involved in the water industry and the challenges it presents. I have been able to experience first- hand how biological processes must be managed so an efficient and reliable service can be provided for customers."
Cheryl Kaye, HR Manager for Jersey Water said "We are delighted that Jordan has completed his degree and graduated. As our first Bursary Scheme student he has set a high standard for others to follow through the commitment he demonstrated during his work experience with us. We wish him continued success in his new career which is with the Environmental Agency in Bristol."
Final thoughts from Jordan "The funding is extremely helpful for paying towards tuition fees, and combined with paid work experience it has enabled me to boost my CV and also relate my experience from Jersey Water to my degree on a practical level. Jersey Water staff throughout the Company have also made me very welcome and I appreciate the knowledge and time they have shared with me. "
There are currently three other students that are being supported on the Bursary Scheme by Jersey Water;
Joshua Pereira is in his final year studying Biochemistry with Essex University
Conor Hubert is in his second year studying Civil Engineering with Bristol University
Lauren McCarthy has just started in September studying Chemistry at Bristol University
Applications for the Bursary Scheme Award for 2013 will be open from
Friday 25 January 2013. Full details will be put on the website .
---