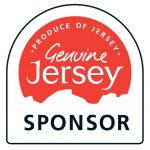 One of the Island's largest landowners has joined Genuine Jersey as a sponsor.
Jersey Water, which is also the oldest company in the Island, has joined a growing number of businesses that want to be associated with the producers' association.
Sponsors can use the distinctive Genuine Jersey sponsor mark, which is widely recognised as a hallmark of local quality, in their branding. In turn, they can support the movement through a financial contribution or providing a service in kind.
Jersey Water Chief Executive Helier Smith said: "As the Island's second biggest landowner, after the States, we have a close affinity with the environment and rural Jersey. With much of our property being in the countryside and most of our water catchment areas being in the heart of the Island's farming community, we always felt as though we were a 'Genuine Jersey' business but now it's time to officially join as a sponsor Member. We will be proudly displaying the sponsor logo on our all our emails and will be adding it our customer correspondence and our website."
Jersey Water delivers 20 million litres of treated mains water every day to households. It faces the difficult task of providing clean water in a small, intensively farmed Island but works closely with the agricultural community in a partnership that has mutual respect to ensure that both have sustainable and viable businesses.
Genuine Jersey Chief Executive John Garton said: "Our sponsors are an integral part of the association. Clearly their support, whether financial or as a service, is essential but they are also great ambassadors of what Genuine Jersey stands for, helping to spread our message of local provenance, seasonality and quality. Jersey Water not only provide a vital public service but they also manage some beautiful parts of the Island. They are an ideal Genuine Jersey sponsor."
http://www.genuinejersey.com/