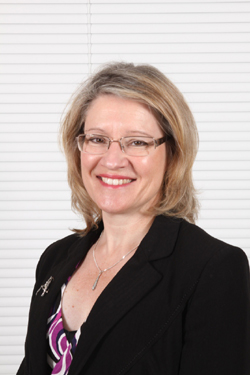 Margaret Howard has recently been appointed as Company Secretary of Jersey Water, the first woman to be appointed to the role in the Company's 130-year history.
Margaret joined the Company in October 2011 after working in the Finance Industry where she focussed on the management and administration of offshore trust and company structures including heading up a company secretarial department. She is an Associate of The Chartered Institute of Bankers, a Chartered Secretary and holds a Master of Science degree in Corporate Governance.
Margaret is responsible for the Company pension scheme, property portfolio, corporate governance programme and other Company Secretarial duties. She succeeds Peter Audrain who is retiring from the Company after 44 years' service at Jersey Water.
Mrs Howard said "I am looking forward to continuing and building on the work that Peter Audrain has done for Jersey Water and helping to support the plans that Jersey Water has for the future. It is a challenging and exciting time to join the Company".
Commenting on Margaret's appointment, Helier Smith Finance Director said "I am delighted with Margaret's appointment as Company Secretary. Her knowledge and experience will support the Company's high standards of corporate governance and assist the Board in ensuring Jersey Water's continuing success."
Margaret is married to Lee and, outside of work, she is a Lay Member of the Social Security Tribunal, does voluntary work for a local charity and her Parish, as well as enjoying travelling, gardening, reading, skiing and walking.
---
Issued by:
Helen Hart
Communications Manager
[email protected]
T: 01534 707378