Jersey Water has published its Annual Report and Financial Statements and its Water Quality Report for the year ended 30 September 2022. The financial results for the year were ahead of budget, showing a profit before tax of £6.77 million, an increase on the 2021 profit of £6.69 million.
The financial results of both 2022 and 2021 were influenced by significant one-off gains relating to the company's pension scheme and an interest rate derivative in 2022 and a property sale in 2021. After adjusting for these items, underlying like-for-like performance remained steady with a profit before tax for the year of £2.75 million, in line with the 2021 profit of £2.68 million.
Turnover increased by £0.4 million to £18.8 million, driven by a 2.4% increase in water revenue and a 2% increase in other income. Operating costs for the period increased by £0.5 million or 3.5% to £15.5 million, as a result of upward pressure on the cost of procured goods and services and rental charges, offset by a reduction in people costs. The Company is proposing a final equity dividend for the year of 16.449 pence per share representing an overall increase in dividend to shareholders of 5% for 2022.
Capital expenditure for the year totalled £10.8 million (2021: £3 million), with the majority relating to the purchase of a property at Rue des Pres, earmarked to become the company's new operational hub and head office. The Company invested a total of £1.75 million on its capital maintenance programme including the extension of the mains network by 0.9km, connecting 299 new properties, the renewal 1.9km of the mains network. Ongoing investment enabled the company to record a 9.2% reduction in leakage, zero customer minutes lost for the year and water quality compliance at 99.99% (as set out in the Company's water quality report published today). Jersey Water also maintained its industry-leading levels of customer service, achieving a customer satisfaction score (measured by the Institute of Customer Service) of 82.7%.
Helier Smith, Jersey Water's Chief Executive said:
"2022 was an exceptional year for weather with low rainfall and a long hot summer. Together, these factors necessitated the extended operation of the desalination plant and temporary restrictions on water use through the hosepipe ban. We were delighted with the understanding and positive response from our customers to help reduce consumption during one of the hottest and driest years on record. Despite these challenges, the team at Jersey Water did a great job, ensuring that our financial and operational performance remained strong and that we continued to deliver on our customer outcomes and strategic priorities, including addressing the challenges on water resources brought about by climate change; the effects of which have been all too evident during the year."
Click Here: Full copy of the 2022 Annual Report. 
Click Here: Full copy of the 2022 Water Quality Report.
Reconciliation of reported profit to like-for-like underlying profit: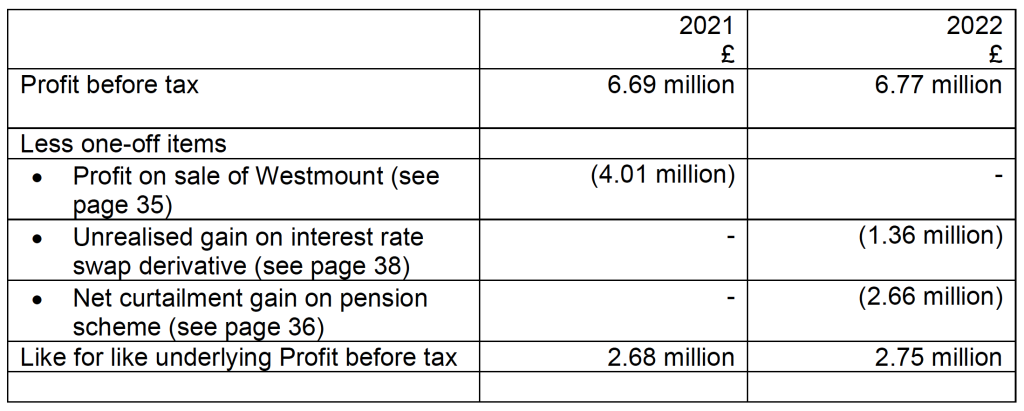 For further information please contact:
Simon Le Huray
Customer Services Manager
Tel: 01534 707353
Email: [email protected]