Jersey Water is celebrating the success of two of its Bursary Scheme students, who have graduated this summer with first class Masters degrees. Elizabeth Cornish and Lyndon Gledhill shared their good news with Helier Smith, Chief Executive of Jersey Water, who was thrilled by their achievements.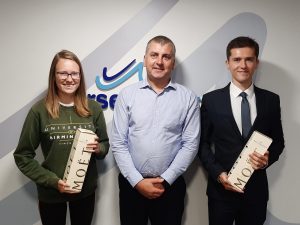 Mr Smith said: "The Jersey Water Bursary Scheme has been successfully running since 2009, and is designed to assist local students embarking on an undergraduate degree course in a subject relevant to the supply of water. These studies can include engineering, environmental sciences, water resources, management and conservation or chemistry.  The Scheme provides funding for one successful applicant each year towards the cost of study for the duration of their time at university.  We also offer paid work experience during holiday periods, which are individually tailored for each student to ensure that they are both practical and relevant to the degree course they are studying.
"We are all delighted for Elizabeth and Lyndon, who we have come to know well over the last few years, and it has been a pleasure to support two such worthy people in their studies. Their hard work has been rewarded by these fantastic results and we wish them every success in their future careers."
A key part of the Jersey Water Bursary Scheme is the four weeks' work experience for each student during their summer break. Their first work placement is divided between each department to enable them to gain an holistic overview of the Company. The second, third and final work placements are aligned to their studies and therefore are split equally between the laboratory at Millbrook and the Handois treatment works.
Elizabeth Cornish was educated at Jersey College for Girls and graduated from the University of Birmingham with a first class honours MEng degree in Chemical Engineering. As part of her degree she had the opportunity to study at Iowa State University in the US for a year, which was a fantastic learning experience.
Elizabeth is highly appreciative of the support that she received from Jersey Water and the practical experience that she gained with the Company. She commented:
"The work experience offered by Jersey Water as part of the Bursary Sheme is an invaluable opportunity, particularly in Jersey where science-related experience is hard to come by. It gave me the chance to see how a company such as Jersey Water functions, work in a lab environment and also gave me plenty to talk about and helped me to stand out in job interviews after leaving university. The Scheme is very well organised, meaning that you get to work in every department and see a breadth of work in your first year, then focus on the department of your choosing in subsequent years."
She is currently working in Birmingham for Air Liquide, who supply industrial gases and services to industries such as medical, food and drink and electronic manufacturers.
Lyndon Gledhill studied at Grainville School and Hautlieu before attending the University of York and graduating with a first class Masters in Chemistry. The sciences have been a lifelong fascination of his, and the scope of Chemistry allowed Lyndon to touch upon many disciplines in the scientific domain. He is currently working with Jersey Water, based at the Laboratory in Millbrook and he believes that the science-based work experience he has enjoyed at Jersey Water has given him an edge when applying for other science-related fields on the Island.
He said: "I would encourage anyone considering a degree related to the field of water management to apply for the Jersey Water Bursary Scheme. The Bursary Scheme, whilst being an extra source of income (which certainly doesn't hurt!), is also a chance to discover the inner workings of a community-oriented company and gain valuable work experience."
The next round of Bursary Scheme applications will open in spring 2020. Anyone considering university studies in a subject relevant to water supply and management is eligible to apply for the Jersey Water Bursary Scheme and can contact our HR team at [email protected] or phone 707390 for a chat.