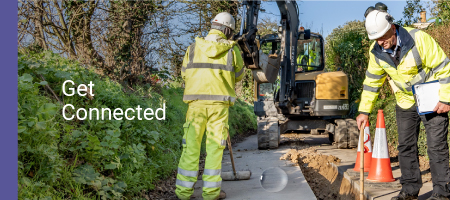 Get connected to the mains network
Jersey Water supplies treated water to approximately 90% of the Island population.
Finding out if there is mains water in your area
If you are unsure as to whether there is a water main in your area please contact us with your property details.
Getting a new connection
If you are not connected to the mains network and there is a water main near to your property then getting connected can be straightforward. Please contact us with details of the property you want to connect to mains water and we will provide you with a written quotation. On receipt of payment we will then schedule your connection.
You will may need to undertake internal plumbing alterations to bring your plumbing into line with Water Regulations Byelaws. Including making sure that your installed plumbing system is sufficiently robust to withstand mains water pressures. You will need to lay a supply pipe to connect your plumbing to our metered supply. All work should be undertaken by a qualified plumber.
A Jersey Water regulations inspector will inspect your plumbing installation to ensure compliance before we connect to our mains network.
Mains installation charges
There will be circumstances where there is no main in the vicinity of a property or group of properties and no planned mains extensions into that area. In these cases it is possible for a main to be laid. If you would like to discuss this further please contact us and we can provide a quotation.