Every role at Jersey Water is unique and contributes to our Strategic Vision: 'To be a great Island community water provider' and our Mission: 'To deliver, safe, high quality water for Jersey'.  In our 'Day in the Life of…' Series we meet the people behind the scenes, hear about their typical day and what makes them tick.
Meet Michael Raine – Water Regulations Inspector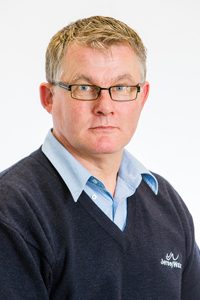 Name: Michael Raine.
Job Title at Jersey Water: Water Regulations Inspector.
What makes you spring out of bed in the morning? The love of a new day and a new challenge!
What does your normal day look like? I inspect new plumbing works, help with plumbing queries and provide water saving advice. I never know what's coming next!
What couldn't you live your life without? Memories and laughter.
What is your favourite part of your job? Resolving a problem that others couldn't; leaving a customer happy.
And the least favourite? Negative attitudes.
How did you get to where you are today? By wanting to improve myself and setting high standards.
Random fact about yourself; I can free dive to 100 feet (almost).
Recent feedback received on Mick: Recently we received a letter of thanks, recognising Mick's excellent customer service. Well done Mick!
"Michael is real credit to your company along with his team and we are all very grateful. He kept in touch and took a genuine interest in our concerns and did everything possible within his remit. Thank you again to you all, for a fantastic customer experience and we all wish you a very successful and happy (well deserved) future."