With a simple understanding of how your water is supplied and a little preventative maintenance, you should be able to reduce the risk of leaks and bursts occurring and be better prepared to identify and tackle them if they do happen.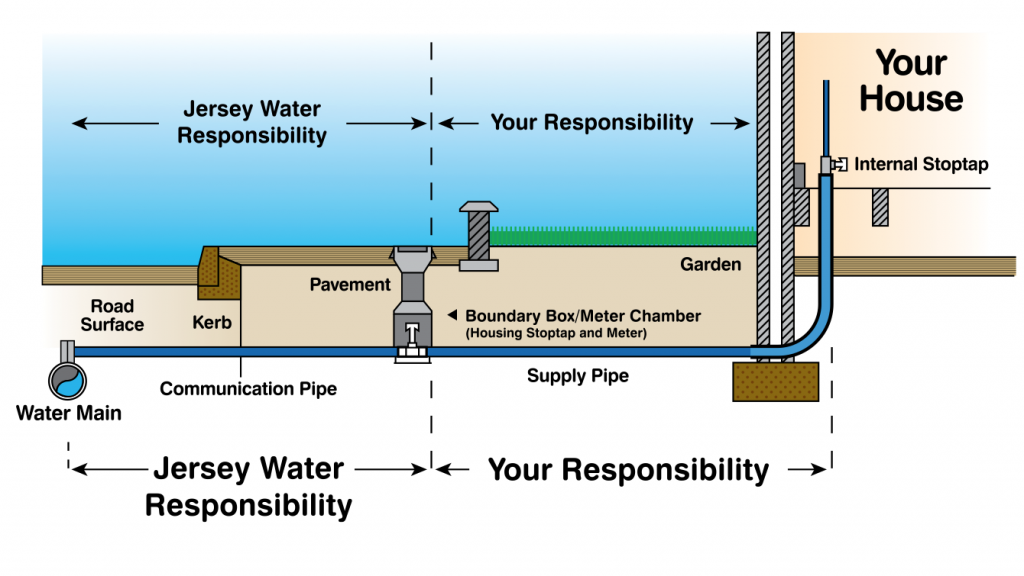 Know your supply

Your water supply is fed from the water main through a boundary box. The communication pipe, boundary box, meter and external stop tap belong to and are the responsibility of the Company. The supply pipe runs from the boundary box into your property. Maintenance of the supply pipe and all connected plumbing is your responsibility.

The external stop tap is located in the boundary box. The external stop tap is the property of the Company and should only be operated by authorised Company representatives.

Internal stop tap

Where the supply pipe meets your household plumbing there should be an internal stop tap. This allows you to turn the water supply to your household plumbing on and off. The internal stop tap will usually be located where the service pipe enters your property.

Spend the time to find out where your internal stop tap is located. Knowing where it is may save you important minutes when you are dealing with a burst or major leak.

Once you have found the internal stop tap, check that it works; turn it clockwise for off, anticlockwise for on. If the valve is hard to turn, don't try to force it. If the valve is seized or broken it should be replaced by a qualified plumber.

To prevent a stop valve from seizing up, it is a good idea to close and open it a couple of times a year.

How to avoid leaks and bursts

When working on your home or garden be sure to locate all hidden and buried pipe work to avoid inflicting damage that could result in leaks and bursts.

Ensure that your central heating system and hot water system are properly maintained on a regular basis and that air is regularly expelled from central heating systems to prevent internal corrosion.

Where pipe work is externally corroded seek advice as to its replacement.

Ensure that your plumbing systems are designed to withstand the pressures that are being exerted upon them. Converting a system over from an indirect feed system (with water storage tanks) to a direct feed system (where all pipe work is at mains pressure) or from borehole water to mains water can place considerable strain on existing pipe work and equipment.

Cold weather protection

Winter is often a time when most problems occur. Here are some simple ways to reduce the risk of problems occurring:

Repair dripping taps and faulty ball valves.
Check the lagging on pipes and tanks and improve it where necessary – this will help to stop pipes freezing in the first place.
Check that loft insulation is thick enough to withstand cold weather, and is in good enough condition.
Keep the house warm – block out draughts.
Lag all external pipe work (e.g. garden taps).
In very cold weather, open the loft trap door to allow warm air from other parts of the house to circulate.
Leave the heating on while you are away from your home, to help prevent pipes freezing or, if you don't have central heating, consider draining down the system while you are away.
Ask a friend or relative to visit your home while you are away – so a burst pipe may be found in a reasonable time.
If you increase the insulation in your loft area make sure you also increase the insulation to water pipes and storage tanks. Whilst increasing the degree of insulation in your loft space will help keep your house warmer, your loft space will become colder, which could place water pipes and storage tanks at bigger risk of frost damage. This can be avoided by ensuring pipes and tanks also receive additional insulation.

Leakage

Leakage wastes water, can cause a significant amount of damage to a property if left unattended and can be costly. If you identify a leak on your pipe work you must get it fixed as a matter of urgency.

If you suspect a leak you should contact a qualified plumber to investigate and fix it for you. Below are some pointers that may indicate the presence of a leak:

An unexplained high consumption reading on your water bill.
The sound of water moving through the pipes at night or when no water is being consumed.
Damp, discoloured patches and/or mould on carpets, ceilings, floors or walls.
Reduced or falling water pressure.
Subsidence.
A damp patch appearing on the ground or flowers and grass growing better than those around them, especially where this lies above the route of the supply pipe.