Retired Jersey Water employees reunited at the Company's annual pensioners' lunch on Wednesday 13 November at the Royal Yacht Hotel.
The group of 21 pensioners represent more than 750 years of experience working for Jersey's oldest company – an average of more than 35 years – with 11 of the group having served more than 40 years. When all other pensioners, current employees and directors are added in, Jersey Water is able to boast more than 2,750 years of service; a remarkable show of long service and loyalty.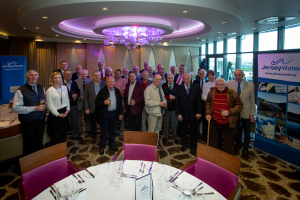 The pensioners shared memories of life at Jersey Water and previous periods of drought, floods and many other issues faced by the Company through the latter part of the 20th century and beyond. The ex-employees lived through and worked on many of the far-sighted solutions that were introduced to keep Jersey's water supply flowing, including initially controversial projects such as building the desalination plant at La Rosière in the 1970s and  Queen's Valley reservoir in the 1980s, both of which now form a vital part of Jersey Water's infrastructure. Some of the older retirees fondly remember their involvement in one of Jersey's biggest civil engineering projects during the 1960s – the construction of the dam to form Val de la Mare reservoir – and are rightly proud of their legacy, which is so crucial to the Island.
86 year-old Joe Makin reflected on his career, saying: "I worked for a lot of the service companies in Jersey, but Jersey Water is the best company I ever worked for. They were the best years of my working life as I felt really looked after – and I never had a day off sick!"
Nora Treanor spent more than 13 years working in the Jersey Water Laboratory and said: "I was very happy during my time at Jersey Water and really enjoyed the work. The years of service given by those of us now retired demonstrate our loyalty to the Company and it is a great testament to the Company that they still care about their ex-employees. We really appreciate keeping in touch at events like today to see how Jersey Water is progressing."
Jersey Water's Chief Executive, Helier Smith, welcomed the pensioners with a short presentation to bring them up-to-date with the Company's progress and the contemporary issues it faces, focusing on the projected need for more water storage that forms part of Company's Water Resource Management Plan.
Mr Smith remarked, "One of our objectives is for Jersey Water to be a great place to work.  We look after our people and this extends to our close-knit community of pensioners, now enjoying their retirement.  Many of our pensioners worked their whole career at Jersey Water; and some alongside their brothers, fathers and sons.  There is an enduring strong and positive Jersey Water culture that we all share in common and it is a real privilege to spend time hearing the stories from the past, talk about the future and be able to catch up with so many former colleagues, many of whom helped create the infrastructure on which we still depend today."