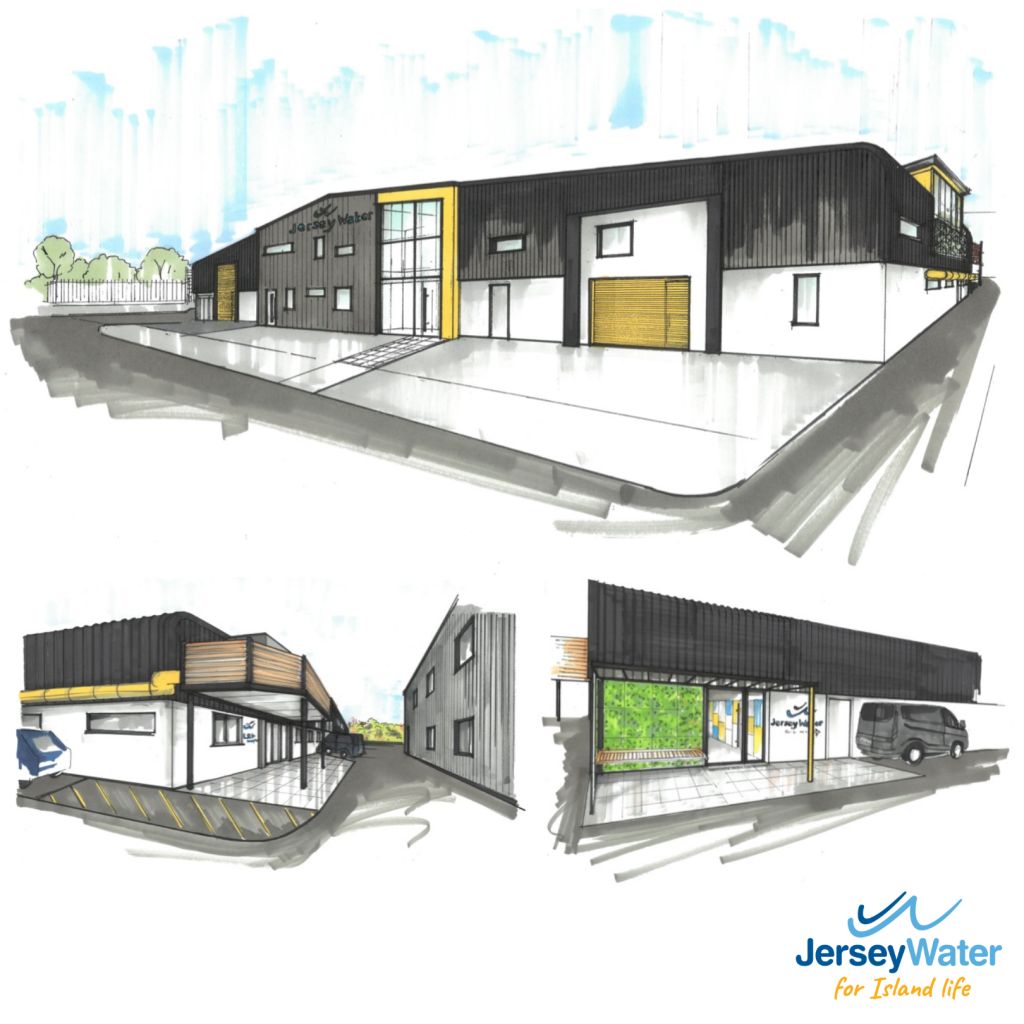 Jersey Water submits plans for future operational hub and headquarters
Jersey Water has submitted plans to redevelop an existing building at Rue des Pres trading estate to become its new operational hub and headquarters.
With a strong focus on sustainability and energy efficiency, the proposed design seeks to fully refurbish, retrofit and environmentally improve a vacant building purchased by Jersey Water in 2022, which was formerly an office and data disaster recovery centre.
As well as regenerating an area of the trading estate, it is intended that the new premises will house the majority of the company's operations under one roof, including customer services, the operational water supply teams, workshops and a state-of-the-art water quality testing laboratory.
Helier Smith, Chief Executive of Jersey Water, said:
"This is a significant milestone for our 140-year-old company; this investment supports the long-term future of the Island's essential water supply and the important role that we play in serving our community. With our customers very much in mind, our new property will bring our people and services together under one roof, so we become more operationally efficient and deliver improved service for generations to come. At the same time, we have taken every opportunity to make this development as environmentally sustainable and energy efficient as possible."
Among the proposed environmental upgrades to the building are modern insulated cladding, low energy lighting, an energy efficient heating and cooling plant, roof mounted photo voltaic panels, a "Windcatcher" passive ventilation system, EV charging, and rainwater harvesting.
Local architecture and design practice, Elliott Design Partnership, has devised the scheme and submitted the plans on behalf of Jersey Water. They commented:
"We are delighted to be working with Jersey Water to help develop and realise their future vision for their business location. The site at Rue des Pres provides a great opportunity to undertake a sensitive and environmentally focused refurbishment of a redundant building and commercial site. Subsequently we believe our proposal significantly improves the site and building, providing a positive contribution to the location and environment."
The planning application is available to view on the Government of Jersey's website until 19 September 2023: Planning Application Documents (gov.je)