Don't get caught out by frozen pipes as the temperature drops, take action now. Jersey Water main supplies will not freeze, frozen pipes will mostly occur on your property. If you have no water and suspect you have a frozen pipe, as precautionary measure contact your plumber and shut off your water supply at your internal stop tap, this is most likely found under the kitchen sink. If the frozen pipe has burst, when it defrosts it will cause flooding in your home.
If you are confident that the pipe or fittings have not burst, slowly thaw the pipe with hot water bottles or a towel soaked in hot water, starting at the end nearest the tap.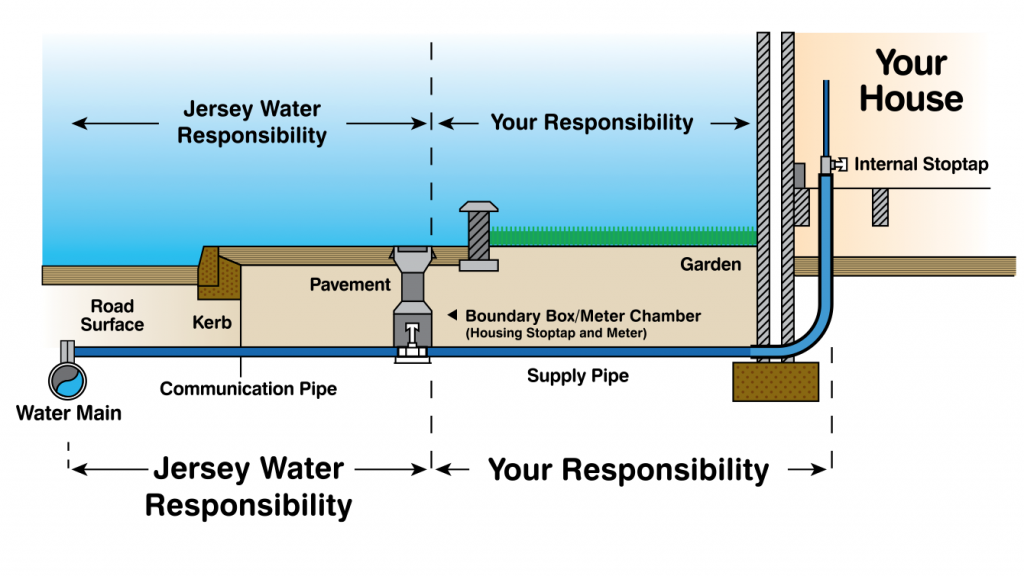 As a precaution locate your internal stop tap now to ensure you can turn it off, if needed.
What you can do now to protect yourself is to wrap rags and or plastic bags around your outside taps and pipes that are exposed.
Fix anything that may be overflowing.
If you have a water tank in an unheated roof or loft space, open the loft trap door to allow warm air from other parts of the house to circulate.
Here are some simple ways to reduce the risk of problems occurring:
Repair dripping taps and faulty ball valves.
Check the lagging on pipes and tanks and improve it where necessary – this will help to stop pipes freezing in the first place.
Check that loft insulation is thick enough to withstand cold weather, and is in good enough condition.
Keep the house warm – block out draughts.
Lag all external pipe work (e.g. garden taps).
In very cold weather, open the loft trap door to allow warm air from other parts of the house to circulate.
Leave the heating on while you are away from your home, to help prevent pipes freezing or, if you don't have central heating, consider draining down the system while you are away.
Ask a friend or relative to visit your home while you are away – so a burst pipe may be found in a reasonable time.
If you increase the insulation in your loft area make sure you also increase the insulation to water pipes and storage tanks. Whilst increasing the degree of insulation in your loft space will help keep your house warmer, your loft space will become colder, which could place water pipes and storage tanks at bigger risk of frost damage. This can be avoided by ensuring pipes and tanks also receive additional insulation.